INTRODUCTION
About IISF
India International Science Festival (IISF) is an annual event organized jointly by DST, DBT, MoES, MHWF, and CSIR from the Government of India  and Vijnana Bharati (VIBHA). IISF is perhaps the biggest platform in the country to bring together students, researchers, innovators, artists, and the general public. IISF is also an endeavor to motivate young minds towards science. IISF is a mega festival which has participants from India and abroad.
The series of IISF is an integral part of India's long term vision of developing and widening the spectrum of scientific temper among various stakeholders of our society, wherein we celebrate the achievements of India's scientific and technological advancements with our nation-builders like students, innovators, craftsmen, farmers, scientists, and technocrats. The IISF festivals have been increasingly recognized as the country's largest single platform where scientific fraternity and industrialists get premier opportunities to showcase & exchange their innovations & technological solutions for the overall growth of our Country. 
IISF 2020
The 6th edition of India International Science Festival (IISF)-2020 is being organized by the Ministry of Science & Technology, Ministry of Earth Sciences, and Ministry of Health & Family Welfare in association with Vijnana Bharati (VIBHA) during 22-25 December 2020 at New Delhi in Virtual Mode. This year, CSIR is the coordinating organization and CSIR-NISTADS is the nodal laboratory to hold the event.
The theme for this year's festival is Science for Aatmanirbhar Bharat and Global Welfare. It is inspired by Hon. Prime Minster Shri Narendra Modi Ji's  clarion call for Self-reliant nation, the "AtmaNirbhar Bharat" to propel the country on the path of self-sustenance. IISF 2020 is the sixth edition since its inception in 2015.
A total of 40 events have been planned on different aspects of science and technology to highlight the role of Indian Science in elevating the society and fighting the ongoing pandemic.  Some new themes have been added this year viz., History of Indian Science, Philosophy and Science, Agritech, Clean Air, Energy, Waste & Sanitation, Biodiversity, Science Diplomacy etc. A large number (approximately 1 lakh) of participants including students, industrialists, entrepreneurs, innovators, teachers, science communicators, technocrats and scientists are expected to attend this mega-event.
Curtain Raiser- IISF 2020
Curtain raiser of IISF-2020 was inaugurated on 17th November 2020 by Hon. Union Minister of Science and Technology, Earth Sciences and Health & Family Welfare Dr. Harsh Vardhan for kick-starting different events of the 6th edition of IISF. He termed the event as a blessing in disguise since the event is going to be held on virtual platform and a large number of people will be able to join the programme from all over the country and even from abroad.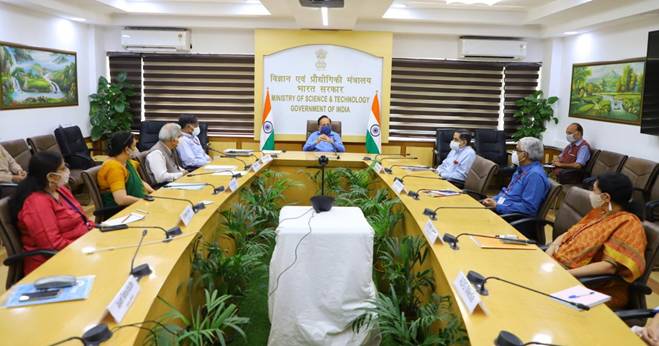 Source: https://pib.gov.in/PressReleaseIframePage.aspx?PRID=1666172
A series of curtain raisers are also planned to be organized Pan India from 25th on Nov 2020 to second week of December in various institutes of Government of India to disseminate the information of IISF and to encourage participants from all over India.
All the activities and registration of the participants will be done through IISF website www.scienceindiafest.org